A stone farmhouse for guests
The guests of the hotel will stay in a typical stone farm house in the Valley of Orcia. The accommodations have a beautiful panoramic view and offer quiet surroundings and privacy while conveniently situated near the town of Castiglione d'Orcia.
In the garden next to the house there is a 6X12 meter pool. The garden also has a barbeque and seating available for guests, providing the perfect setting for organizing lunch or dinner outside.

The house is surrounded by an olive grove and small vineyard. There is also a small forest nearby where you can find typical wildlife of Tuscany (wild rabbits, deer and numerous species of birds).
Inside the house
The inside consists of 100 square meters with:
a kitchen with sitting room and fireplace
two bedrooms with double beds
two bathrooms
a place to do laundry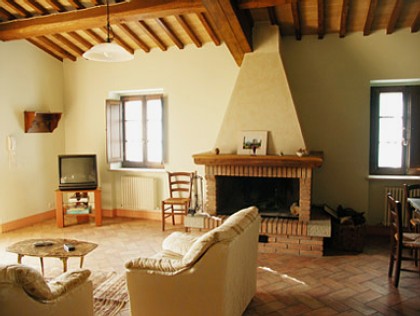 The house sleeps 2 people per room plus there is a pullout couch for two in the sitting room.

To see more pictures of the inside of the house please click this Link.