The Val d'Orcia region
The Val d'Orcia region is in the southern part of the province of Siena and occupies more than 660 squared kilometers. The Valley borders Crete Senesi in the north, Valley of Chiana in the east, the area of Monte Amiata in the south and Alta Maremma in the west. A large part of the Valley coincides with the Orcia river valley.

The Valley of Orcia consists of five communities: Castiglione d'Orcia, Montalcino, Pienza, Radicofani and San Quirico d'Orcia. The Valley of Orcia has been listed as a UNESCO site since July of 2004. The Valley was named a site because of the exceptional rural scenery which is a result of man's harmonious work with nature. This setting was also the inspiration of paintings by the School of Siena during the Renaissance.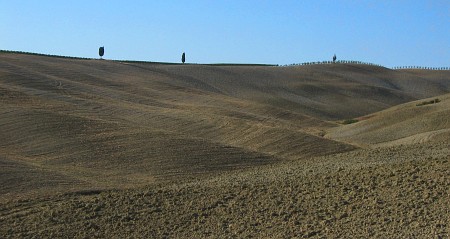 The essential characteristic of the Val d'Orcia region are the rolling hills that are often filled with crops of grain, cereal, and sunflowers. These hills are lined with cypress trees that border non paved roads leading to old houses perched on the tops of these hills.

A vacation at a holiday farm in the Valley of Orcia allows one to experience the pleasure of staying in a naturally preserved environment while at the same time having the opportunity to visit small towns and areas rich with history and art. The most memorable sites of these communities are the extraordinary piazza of Bagno Vignoni which has an antique bath that collects hot water and Rocca d'Orcia is a small community where the grand rock castle of Tentennano rises.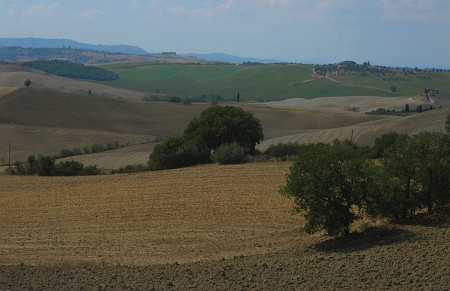 Within the borders of the Valley of Orcia you can find the area of production for :Brunello di Montalcino DOCG, Rosso di Montalcino DOC, Sant'Atimo DOC, Moscadello di Montalcino DOC, Val d'Orcia DOC and Chianti DOCH. The first four wines listed are types found and produced exclusively in the Valley of Orcia (to be exact they are limited to the surrounding area of Montalcino). The last two wines listed are available in other regions within Tuscany.

The last rich aspects of this area are the two non active volcanoes- il Monte Amiata and the Volcano of Radicofani which supply the majority of the hot water underground for the surrounding springs.. Hot springs are used in the famous hot spring centers of Bagno Vignoni and Bagni San Filippo.