Agritourism in the Val d'Orcia region
A short distance from the historic center of Castiglione d'Orcia, Il Pratone Agritourism will bring you in the heart of Tuscany with a vast, panoramic view of the valleys of the Orcia river. Guests reside in a classical Tuscan farmhouse surrounded by olive grooves and wine vineyards in the heart of a secluded oak groove. The natural setting of the Val d'Orcia is a relaxing getaway in the Italian countryside - perfect for an agritourism experience Italy's countryside.
The Farmhouse
Guests reside in a recently-restored farmhouse typical of the Val d'Orcia region of Tuscany. Restored with only authentic materials of the region, the farmhouse -- fully heated -- includes a spacious kitchen, lounge with fireplace and two beds with full bath. The interior, also recently refurbished, includes humble and authentic Tuscan furniture to complement the farmhouse's beautiful Tuscan panorama.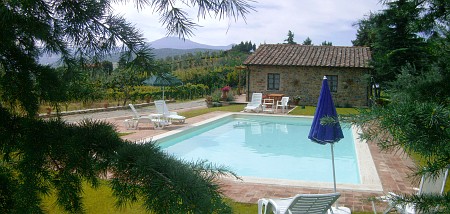 The garden to the right of the stone house and the 6 X 12 meters swimming pool are shown in the picture above. The property is entirely surrounded by the beautiful scenery of Castiglione d'Orcia countryside. Tables and other outdoor fornitures are available so that our guests can enjoy having meals in the garden.
The Farm
The farm in the Italian countryside still constitutes a family business to this day. Three hectares (just over seven acres) are occupied by an olive groove, producing the highest-quality extra-virgin olive oil.

An additional acre supports some of the region's finest grape vineyards, producing Italy's famous "vino rosso." Moreover, the family maintains a private vegetable and fruit garden. We have a tasting room available and by reservation we can organize wine and oil tasting along with seasonal tasting such as chestnuts in the autumn.



Our company has obtained a certification for it's organic products and is registered in the Street of Orcia Wine Association which has recently been recognized by the Region of Tuscany.